With LoyJoy, your customer relationships become a chatbot conversation, automated and emotional
Automate your customer journey with chatbots and voicebots in the LoyJoy Conversational Marketing Cloud. We are the only platform supporting the BPMN standard.
Free trial | no credit card
What is LoyJoy?
Modern digital communication is becoming increasingly dialogue-oriented. Most consumers spend their screen time in chat applications. However, most companies do not participate in this form of dialogue. LoyJoy (for Loyalty and Enjoyment) is a software platform that empowers brands to use chatbots for the entire customer journey from acquisition to retention to loyalty.
Digital processes with LoyJoy are simple, fast and fun 😃
Simple. Fast. Emotional. That is how the customer experience has to be today in order to inspire and retain customers. LoyJoy simplifies customer interaction with intuitive, playful chats.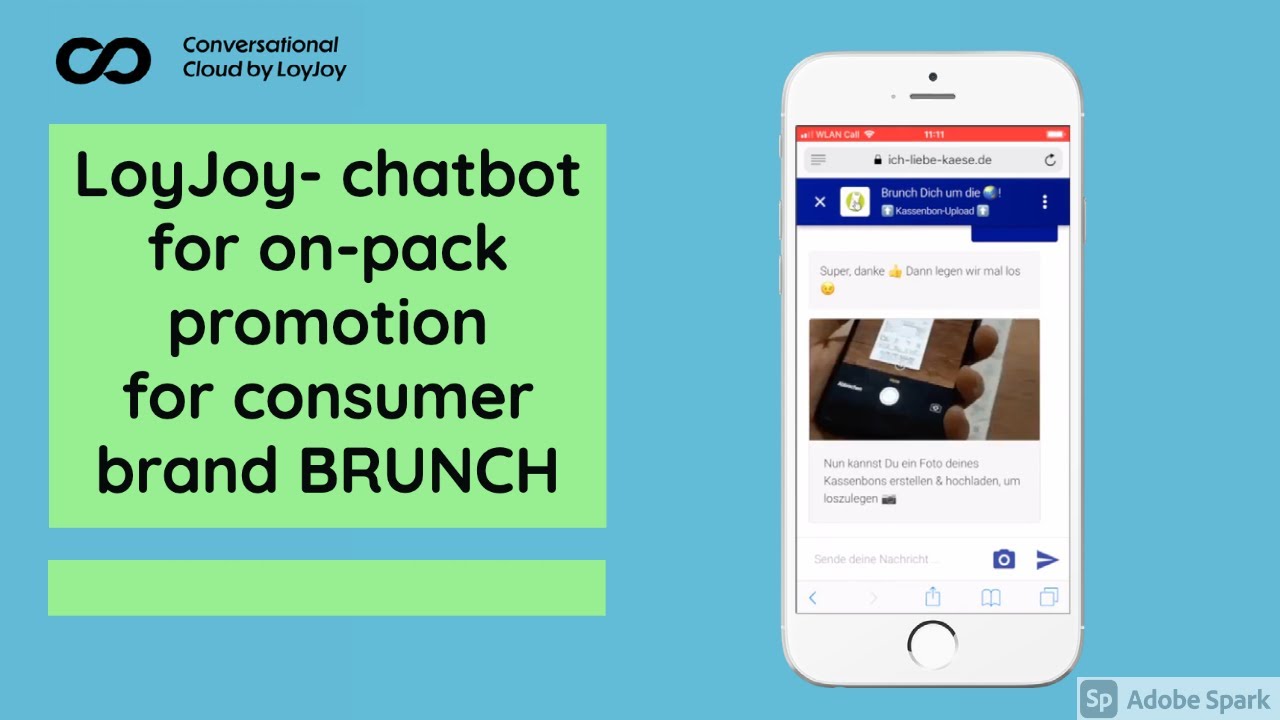 Your own anywhere-instant-messenger for automated chats with customers
Progressive web chat
Use the LoyJoy web chat on your websites and customer portals and social media. As a Progressive Web App (PWA), no download or installation is required. This keeps you independent of the large messenger platforms.
Supporting the top platforms
Publish your chat experiences to Facebook Messenger, WeChat, Instagram, Amazon Alexa and Google Assistant. You only build the chatbot once and deploy it to all channels. LoyJoy manages the different platforms for you.
Push messages
Contact your customers via push message on all devices. We support the Web Push standard and Facebook push messages. Web Push messages are free for you.
Scalability
Whether you have 1 or millions of customers, the LoyJoy architecture is built for global enterprises and has proven its reliability time and time again.
LoyJoy's simple building kit empowers your team to build chatbots on their own
Go live with your chat processes within a few hours. We have designed the LoyJoy chatbot building kit so that your team can get started instantly and independently.
Self-service
The LoyJoy cloud is self-explanatory. Make yourself independent of tedious development processes and start immediately.
API
Via RESTful API all required inventory systems can exchange data securely and efficiently with LoyJoy
GDPR-compliant
Your data belongs to you alone. Store your customer data securely in the LoyJoy Cloud in accordance with the standards of the EU General Data Protection Regulation. Export your data to existing systems at any time.
Start with ready-built experiences with proven performance
Choose one of our ready-built experiences to get started in record time. All you need to do is customize the content.
Customer acquisition
Customer retention
Customer loyalty
Design individual processes in the BPMN 2.0 standard
LoyJoy is essentially based on a BPMN process engine, which also implements our ready-built chat experiences. This BPMN process engine is suitable for the execution of any long-lived and complex business process as chat, so we are able to implement and host dialogue-oriented BPMN models on our platform for all industries.
Answer customer questions at any time and train your own AI
Dialogue also means that your customers can ask questions and make comments at any time. These inputs are evaluated by LoyJoy with an algorithm based on the latest Natural Language Processing technology and answered automatically. The underlying deep learning algorithm is not rule-based, but self-learning based on examples (so-called training data). It is very simple to use and you can teach your LoyJoy Chat new, exclusive skills at any time.
Create your own conversational experience in just a few minutes
Free trial | no credit card